WHAT IS WOMAN TO WOMAN?
Woman to woman is where a representative at Autoworld will help guide you through each step of the car selection and buying process.Your woman to woman professional will conduct a search for your preferred make and model of new or used cars. She will then negotiate prices and financing terms that satisfy both the buyer and the seller, before making delivery arrangements.
Clients of a woman to woman representative only have to show up for a few minutes to sign the contract and take the keys. This easily navigable process will make the purchase of a new vehicle a pleasant one for each customer the woman to woman advisor works with.
According to national statistics, women control a large amount of influence over purchasing decisions across the American economy. The Federal Bureau of Economic Analysis asserts that women make 60 percent of the new car purchases and control 89 percent of all purchases of goods and services. Most of the automotive industry has failed to recognize the importance of these stats. We at Autoworld have not.
We vow to simplify the process of obtaining a new vehicle, making it both pleasant and affordable. Our standards of customer service are set incredibly high, and we promise to deliver what we say.
OUR PROGRAM
Our mission is to make car buying pleasant! Giving you the best possible deal on a new or pre-owned vehicle is our goal, so we work with automotive distributors and wholesalers daily. Our woman to woman representatives believe that the car buying experience should be a smooth and pleasant process for everyone, and everyone at Autoworld is committed to creating a positive experience one client at a time.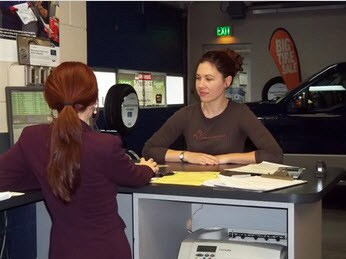 THE BEST VEHICLE-BUYING EXPERIENCE
We chose women with experience in the car business including positions in sales, dealership management, financing and customer service for our woman to woman program, and we know each one will bring a unique buying experience to the traditional frustrating process of car haggling to women in the Central Indiana area.
If you're in the market for a new or used vehicle, contact your woman to woman representative at Autoworld to ensure you get the best vehicle-buying experience you have had yet.